Welcome back!
This piece has been a long time coming. I'm glad to finally get these thoughts out and hope you all enjoy this trip down memory lane.
Overall this year's experience seemed a positive reaction to PAX East 2013's flaws; the perceived lack of diversity of panelists, issues with sexual harassment, and insensitive comments from one of Penny Arcade's creators that caused folks (including friends of mine) to boycott the 2014 show. However, I'm very happy to report that for me this year was a powerful underscoring that PAX East is a place for community, safety, and deeply shared bonds.
Interacting with fellow gamers is definitely my favorite part of PAX East. I've felt so rewarded with how the Pinny Arcade pin trading has allowed me to engage with other folks while waiting in line or just walking around the show. Haggling with people over which pins they want to trade is a great way to get to make the acquaintance of someone new. There were a few pins in particular I was trying to track down, which was a great 'side-game' to keep me busy and on the look out during my precious moments of downtime. Perhaps the best way to say it is that I was very present to my surroundings.
My absolute favorite anecdote from this year's show actually revolves around pins. For those of you who've read my last PAX East report, you'll no doubt remember that I ran into a younger con attendee who had created her own pins. Well, on the last day of this year's show I was relaxing and reflecting in the table top area, having collected tons of pins, while waiting to speak with the Escpaist's Jon Bolding. And who should walk by but my friend from last year and her Father. I ran after them, reintroduced myself and showed them the pin I'd got from them last year. Truthfully, the smile that this young gamer gave me upon seeing her pin reminded me so deeply that PAX East is a place where this young person can see and feel that her interests are valid. I was so happy to trade pins with her again and was so impressed with how her crafting had improved!
The other highlight of the show: garnering second row seats for the live Acquisitions Incorporated tabletop game. This was the reward for us DMs who manned the D&D booth for the show. Read on to learn all the details!
The panels that spoke to me most deeply had a lot in common. They concerned themselves with discussing how to End Hate and Bile on the Internet and Why it's Awesome to be a Female in the Gaming Industry. Both were powerful, positive, insightful, and asked the right questions, as difficult or uncomfortable they might be.
Discussing the Internet, especially comment sections and discussion forums, can be a difficult subject to wrap one's mind around. Multiply that difficulty when attempting to discuss strategies of positive proactivity to combat Internet hate and bile. My hat is truly off to Greg Tito, Editor in Chief of the Escapistmagazine.com, for putting a group of great panelists together to discuss these emotionally charged issues with poise, humor, and compassion.
The first topic discussed the complex issues surrounding how to deal with folks who post hateful comments to your blog, forum, or other online community space. The answers were many, however what stuck out for me was the simplest answer: shine a light on this from a place of caring respect. By calling someone out from a place of respectful acknowledgement we can shed light on their negative behavior while calling them to account for it.
Concepts of 'Toughening Up and Taking It' and 'Abuse the Abuser' were identified, discussed, and dismissed as viable strategies. Ignoring a person is ignoring the problem and that is not a viable solution. Indeed, so often as gamers pass up opportunities to acknowledge, engage, and educate our peers.
I believe that so called Gaming Culture reflects the deep tensions and socio-political problems that Mainstream Culture, be they about Sexuality, Race, Class, and / or Spirituality. We as humans cannot ignore that we are within culture and products of culture but that we as individuals have the ability to develop and grow. Embracing the diversity of our Culture, be it niche or mainstream, and being prepared to put ourselves out there, to make ourselves vulnerable by engaging with someone who is angry or hurt and lashing out.
The panelist used humor so effectively to discuss issues of Sexuality and Race I realized that when a group of people can laugh together, they start to be more comfortable with one another, be more vulnerable and really share.
All and all, this panel was extremely heartening and charged the audience to be the best possible version of themselves they can be and to exhibit virtues of sportsmanship, integrity and honor in all online interactions. Not a bad ethos for Gamers.
With all the articles about misogyny and sexism in Mainstream Culture, to say nothing of Gaming Culture, it was very refreshing to see a panel devoted to exploring why it rocks to be a female in the gaming industry. The very accomplished, energetic and insightful Dianna Lora moderated a panel of women working both inside shops that produce games as well as journalists writing about games.
This panel was so damn helpful. Seriously these professionals basically laid out their strategies for success in the game industry. A veritable how-to guide was presented in discussion after discussion, question after question on getting both hired / paid to work in video games as well as articles published in Gaming Journals.
The love and support in the room was palpable. Humor was used by all of the panelists to illustrate their trials and triumphs, which allowed everyone to relax and engage. What a treat!
For the Beard, a most anticipated panel is WotC's D&D preview. This year did not disappoint. Chris Perkins himself took to the floor, in costume, to present amazing looks at what the future of D&D will be.
At PAX East 2014 it was still unclear when the new edition would drop, though now we know a lot about the product release schedule. The main focus of MDM (that's Master Dungeon Master) Perkin's presentation was two fold; the upcoming in-game story that will kick off the 5th edition of D&D, Tyranny of Dragons and some beautiful art of iconic monsters and items from the new edition of D&D.
Tyranny of Dragons will be the first printed adventure of the new edition, tied specifically into the launch of D&D's new rules set. There will be two different hardcover adventures that will take Players from 1st level to 8th level and 8th level to 15th level respectively. Most interesting, perhaps, was the revelation that Tyranny of Dragons was not created by WotC but instead was licensed out to Kobold Press.
The panel debuted some beautiful art from the new edition and there was some fun trivia that MDM Perkins presented to the assembled throng, asking them to identify the monster or item for some much vaunted loot. The art itself was beautiful and created in a style that evoked painted realism instead of cartoony anime. The iconic Owl Bear was a crowd favorite.
The tabletop space this year was an expansion over last year and last year was an expansion over the year before that. I was and am ever humbled, bowled over, and elated to see so many people: groups of friends, groups of strangers getting to know one another and a lot of families, playing games together. It's so awesome!
I was lucky enough to be able to participate, as a DM, in creating and manning the only space at the show where folks could play an organized game of D&D Next. Our intrepid group of DMs ran the Gen Con 2013 adventure, Confrontation at Candlekeep. We were lucky enough to secure some great real estate and decorating it up to look like Candlekeep itself. At one point, because of our limited space, we had people waiting in line for two hours to get a shot at playing D&D. Many folks were so thankful that the Twenty Sided Store had partnered with WotC to bring these games to the show. It was a really special experience.
I usually try and find time to demo the hot new product all my fellow tabletop game lovers are hyped about. This year that product was the Pathfinder card game. I'd wanted to try it out for sometime and was luckily able to fit a game into my hectic schedule. I can truthfully say I was a bit underwhelmed. While definitely a game I could play for an hour or so, in terms of keeping my interest or wanting to play an ongoing campaign, I was not inspired to go further.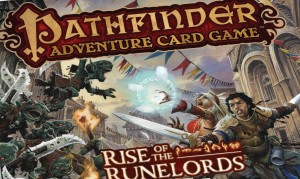 I'm always on the lookout for the force of nature that is Andrew Vaulkaukis, creator of Fate of the Norns, when I attend Cons. I demoed FotN last year and was immediately impressed. Andrew has developed and put out a slew of products since 2013, using Kickstarter very successfully to crowd fund this expansion. If you ever get a chance, sit down and try Fate of the Norns!
Somehow I was blessed by the Gaming Gods and able to get into the Vendor's Hall before the official opening one morning. I used this sweet time of zero crowds and went over the Geek Chic booth to fawn over the height of too muchery that is their  line of gaming tables. Move over Billiards, there's a new contender in town.
Of course PAX East is not just a table top show, though you might not know it from my report so far. I did get a chance to check out a few digital offerings as well. The one at the top of my list, as well as another Kickstarter project I backed, was Darkest Dungeon. A squad based tactical combat game, the premise is that not only do you as player need to watch your squad's Hit Points and Mana (or whatever) but you also have to worry about their mental state. Too much adventuring in the Darkest Dungeon will fracture even the stoutest of minds and spirits. There's a real Cthulu vibe to the offering. Anytime there's a chance for insanity at seeing too much horror, I'm pretty much up for it.
Acquisitions Incorporated. The very name is synonymous with a notable expansion of D&D's player base. I can't tell you how many confederate gamers I've run into who identify the Penny Arcade D&D podcasts as the reason they took the leap from casual interest to actually playing the game.
The live gaming turned stage performance art has become the premiere event to get in on at PAX, be it Prime, East, Australia, or the newly minted South. I can't quite describe my level of energy and excitement at being able to see the show up close and personal. My helm is off to Trevor Kidd for hooking up the team of Twenty Sided Store DMs with second row seats.
The performance was one to remember for it is the first, and hopefully not last, instance in which a female gamer was at the table. I'm not gonna lie, there were some weird moments due to the sexism that is a part of our culture. There were some comments from the crowd, as well as on stage, that really milked my goats. However, overall the experience was a positive one and I have so much love / respect for Jerry Holkins and Chris Perkins. Jerry's tact, humor, and play style were a delight, while watching the Master, in truth he is, Chris Perkins work at evoking a world that we could all picture was as informative as it was delightful.
All and all, I had a really great time at Pax East 2014. I am looking forward to attending next year's show and devoting more time to the tabletop area. Leaving I was continually thankful for the space the show creates for our community to truly interact, sharpen one another through dialogue, and find that we are never as alone as we might sometimes feel.